Summer Holiday Camp 2019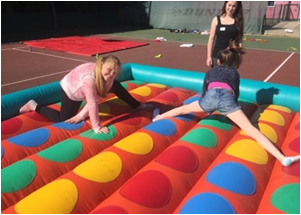 Abbeydale Tennis Club's Summer Holiday Camp 2019 For 4 years + Multi Sports Camp, including Tennis, Cricket, Basketball, Athletics, Rounders, Dodge Ball, Obstacle Courses, Cardio Tennis
DATES
Week 1 - w/c 22nd July Click Here to Book
Week 2 - w/c 29th July Click Here to Book
Week 3 - w/c 5th August Click Here to Book
Week 4 - w/c 12th August Click Here to Book
Week 5 - w/c 19th August Click to Here Book
Full Day 8.30am to 3.30pm @ £30.00 per day
Half Day 8.30am to 12pm or 12.30pm* to 3.30pm @ £18.00 per session
*For the afternoon only sessions, activities will start 12.30pm but you can bring children in from 12.00pm onwards whilst the others have lunch.
Please bring packed lunch & suncream and clothing suitable for both indoor & outdoor play.
To make an enquiry or to book your place give The Club a call on 0114 236 1938 or alternatively book online following link above.