Easter, Spring & Summer Holiday Camps 2020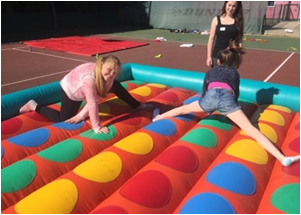 Abbeydale Tennis Club's Summer Holiday Camp 2020
For 4 years + Multi Sports Camp, including Tennis, Cricket, Basketball, Athletics, Rounders, Dodge Ball, Obstacle Courses, Cardio Tennis.
PRICES:
Full Day - 8.30am to 3.30pm - £30.00
Half Day - 8.30am to 12pm or 12.30pm* to 3.30pm - £18.00
*Activities will restart at 12.30pm, but children are welcome to be dropped off and have lunch from 12 - 12.30pm with the other children.
Please bring a packed lunch and clothing suitable to play indoors & outdoors and hopefully suncream!!
A sibling discount of 5% is available and will be applied at the next step.
If you have any questions please contact us on 0114 2361938 or at playtennis@btconnect.com.
PLEASE CLICK TO BOOK CAMP DATES
Easter Camp 2020 Week 1 Monday 30th March to Friday 3rd April
Easter Camp 2020 Week 2 Monday 6th April to Thursday 9th April
Spring Holiday 2020 Camp Monday 25th May to Friday 29th May
Summer Camp 2020 Week 1 Monday 20th July to Friday 24th July
Summer Camp 2020 Week 2 Monday 27th July to Friday 31st July
Summer Camp 2020 Week 3 Monday 3rd August to Friday 7th August
Summer Camp 2020 Week 4 Monday 10th August to Friday 14th August
Summer Camp 2020 Week 5 Monday 17th August to Friday 21st August