Membership
A Whole New Ball Game…
Abbeydale Tennis Club is Sheffield's first and only All-Inclusive fee Tennis Club, offering members the opportunity to play free of charge at all times on both the four indoor and four outdoor courts - plus many other exciting benefits including free group coaching, free social tennis nights and free Cardio tennis classes.
The following classes are currently available free with your adult membership:
Monday Cardio 10-11am
Monday Mixed Coaching 11-12pm
Monday Advanced Coaching 6-7pm
Monday Intermediate Coaching 6-7pm
Tuesday Cardio Tennis 9-10am
Tuesday Mixed 10-11.00am
Tuesday Social Tennis 7-9pm
Wednesday Breakfast Tennis 7-8am
Wednesday Cardio Tennis 9-10am
Wednesday Ladies Morning 10-11.30am
Wednesday Beginners Coaching 6-7pm
Wednesday Intermediate Coaching 6-7pm
Wednesday Intermediate Coaching 7-8pm
Thursday Ladies Morning 10-11.30am
Friday Breakfast Tennis 7-8am
Friday Cardio Tennis 10-11am
Friday Cardio Tennis 6:30-7:30pm
Sunday Cardio Tennis 10-11am
Sunday Adults & Teen Cardio Tennis 11-12pm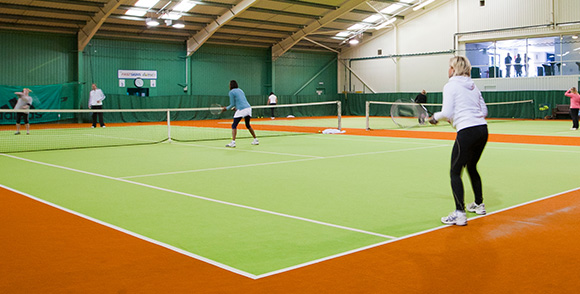 Our change in membership structure
The Tennis Club has been in existence for 129 years and one of the reasons for that is that we listen to our members!
When we received feedback from one of our members surveys, the overall majority of members said they preferred one monthly payment rather than an annual membership subscription and then paying high indoor court fees throughout the winter on top of that.
We have listened to our members and out of that 'A Whole New Ball Game' was born, offering members the opportunity to play unlimited tennis both indoors or outdoors 364 days of the year for one monthly fee.
This policy enables all members the opportunity to play as much tennis as they like without the financial restrictions that have so often given tennis the unwelcome elitist tag.
Tennis at Abbeydale is now truly available for everyone.
As well as the free courts at all times, members receive a host of exciting extra benefits included with their membership package which are covered in detail on both the Adult and Junior pages.
John Gledden
Abbeydale Tennis Club owner